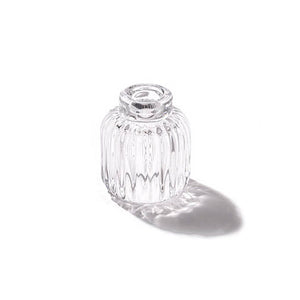 Tapered Glass Candle Holders
Regular price $8.00 Sale
or make 4 interest-free payments of $2.00 AUD fortnightly with
More info
Glass tapered pillar candle holders are the perfect accessory to go with our tapered candle range. This one fits 2 ways it fits a thin tapered candle on one side and a tealight candle on the opposite side.
Handy hint - with a lighter melt some of the bottom of the candle as here is wiggle room until some wax drips inside the glass holder, hold the candle in place for a few seconds until the wax dries and release the candle slowly when you can feel it is secured with the wax. This handy hit allows the candles to all look straight and also for safety reasons when candles are lit they are secured inside the glass.
It measures 7cm in diameter and 8cm high. Internal measurements for tealight 5cmD x 5cmH and thin Taper candle 2.5cmD x 1 1/2cmH.