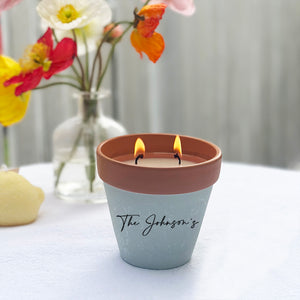 NEW Citronella Candles Personalised
Regular price $31.00 Sale
or make 4 interest-free payments of $7.75 AUD fortnightly with
More info
Personalise your Citronella candle the perfect gift idea.
NEW Citronella candles are an outdoor candle designed to repel mosquitoes and other flying insects. They are used to create a more pleasant and bug-free outdoor environment, particularly during warm summer evenings. The candle is in a terracotta pot in Sage.
The defining characteristic of citronella candles is the scent, which ia a strong, lemony fragrance derived from citronella oil, which is a natural mosquito repellent. The scent is fresh and citrusy, with a lemon-like aroma, and it has a sharp, zesty quality. Citronella candles are primarily used to deter mosquitoes and other flying insects. The citronella oil releases an aroma that masks the scents that attract insects, making it less likely for them to swarm around the area where the candle is burning.
Made in Australia

High quality fragrances and essential oils

100% all natural waxes

Natural lead free cotton wicks. 

Triple scented

Phthalate free

Paraben free

Vegan friendly and not tested on animals
300g scented candle, burn time 50 hours.
When you first burn your candle, burn it until the wax pool reaches the edge of the glass. Always trim wicks to 6mm before lighting. Burn for periods for no more than 2 hours. 
Position candle on a secure, level, heat resistant surface away from drafts, flammable materials, children and animals. Never leave a burning candle unattended. Do not use lid to extinguish the candle. Never burn a candle completely to the end. Discard when there's 10mm of wax in the bottom.
Our triple scented candle encompasses 100% all natural waxes hand crafted in Australia using the highest quality fragrances, essential oils and natural lead free cotton wicks. Paraben free, phthalate free, vegan friendly and not tested on animals. 
Shipping is free when you spend $80 or more, o
r $6.95 when you spend under $80* We also offer express delivery for $20. International shipping is calculated at checkout.  More info