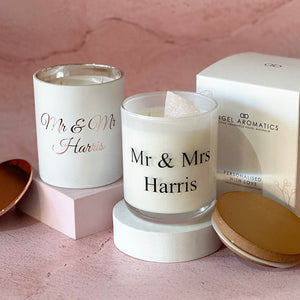 Personalised Engagement Candles
Regular price $0.00 $28.00 Sale
or make 4 interest-free payments of $8.75 AUD fortnightly with
More info
Our Mr & Mrs, Mr & Mr and Mrs & Mrs candle are the perfect way to say congratulations. Click personalise candle to select the fragrance, candle jar, lid and gemstone.

Add a gemstone for an additional $10? see options in the dropdown box when personalising your candle
You can select from four different gemstones, each gemstone holds a special meaning, not only does it add to the gift with its crystal beauty but also has associated meanings.  We have chosen raw natural quartz crystals which all look different in shape, colour and size. 
Citrine Quartz
- Is known for  Positivity, vitality and prosperity and ranges in colour from pale yellow to golden brown.
Rose quartz - is a beautiful pink gemstone that is often associated with love and healing.
Amethyst Quartz
- Calming & relaxing, improves mental clarity focus and concentration.  This is a purple coloured gemstone.
Smoky Quartz
- Grounding properties helping to anchor and stabilise your energy. It is also used as a protective stone to shield against negative energies. It ranges in colour from brown to grey.
Before burning your candle it is recommended that you remove the stone and place beside the candle, rather than burn the candle with the crystal inside the jar. When using candles with rose quartz, if you choose to not remove the gemstone, it's important to be aware of the potential fire hazard. The gemstones should be placed in a way that they will not come into direct contact with the flame and wicks, and the candle should never be left unattended while burning.
We can gift wrap the finished candle and send it directly to the recipient or send to you to give it to that special someone, the perfect gift idea. Please allow 2 to 3 days for us to create your custom made candle and then for delivery to respective State.
Candle Jar: 270 grams
Burn Time: 45 Hours
Hand poured candle especially for you