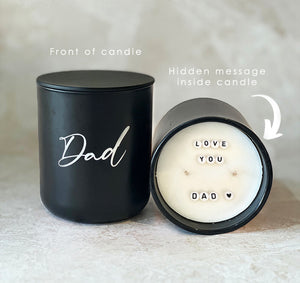 Hidden Message Father's Day Candle - LOVE YOU DAD
Regular price $34.00 Sale
or make 4 interest-free payments of $8.50 AUD fortnightly with
More info
The message LOVE YOU DAD is hidden in the candle. Add an element of surprise, anticipation, and intrigue to the act of candle burning. It can be used as a creative gift or a playful way to convey a surprise someone. The recipient can enjoy the gradual revelation of the hidden message while enjoying the candle's warm glow. Candle is enclosed in a personalised box with a card letting the recipient know there is a hidden message inside their candle.
This candle can be personalised on the front of the candle with a name or short message, you also choose the fragrance. You are creating a truly bespoke gift.
The message will reveal itself in the form of letter beads and will be seen in the first hour of burning. Once the candle continues to burn down and enjoyed for many hours the beads will move around, you may leave the beads inside the candle or remove with tweezers if you prefer. Never leave a burning candle unattended.